變更瀏覽模式
AS I SIT IN FRONT OF MY COMPUTER, preparing to leave Hualien once and for all, I tried to remember how this small touristy town at the Eastern coast of Taiwan meant to me over the past 7 years. Having completed my medical school, hospital internship and today, my medical licensure examination, all in Hualien; reminded me that I had a lot going on here, and to leave, means to bid goodbye to a place where most of my recent memories take place.
June. What a memorable month. It comes before the awfully humid July, and wanders after the Spring-ending May. Conveniently situated at the end of the semester, June is a month where school friends bid each other goodbyes as they go off enjoying their summer, and where graduates leave school in search of their uncertain future, and of course where teachers start smiling, knowing that they finally get their long deserved vacation. Just like the character June, in the recent box office comedy 'Knight and Day', played by Cameron Diaz, days felt like months during June this year, mostly because of the spontaneity and life-changing tidbits that went exploding in front of me.

Being a doctor means you get to handle life and death on a daily basis. You get to witness suffering and once in a while, you get to help the patients and their family live through it. Doctors have the knowledge and the equipment to help alleviate pain, but at the end of the day, patients need to endure all the torturing sores and aches, cramps and discomforts, all by themselves. We can try to help, but we may never offer total relief.

Holy crap! ONE YEAR? Are you kidding me? My blog has been static for almost a year?

Blame it on the restless 'on call' nights... and the following nights spent on sleep therapy. Blame it on the endless presentations and scutwork. Blame it on the weather... I don't care, I ain't taking fault for the lengthy absence. (OK I admit that I am a little moody these days, but please blame it on the rain)

But hey, I still remember the days where new posts sprout out by the dozens. Those were the days when I still had a LIFE, those were the days before my time-consuming internship. Don't get me wrong, I am not complaining about being a doctor. It pays well, and gives me much satisfaction. I do understand that there are sacrifices to be made so that we get to play God and start saving lives (some of the time).

Writing, for me, has never been a chore. It is a relaxing, self-renewing process that I enjoy and hope to complete every single day. Insp
Happy Birthday and Happy Mother's Day MUM!
Although we're far apart, you're always close to my heart. Thanks for all the support and love you have given us all the years. Looking back, I realized how difficult it must be to raise five kids on your own. All of us turned out decent, and you should be really proud of yourself for a great job done. Brave, optimistic and perceptive, you are and will always be my role model. I hope I get to inherit your positivity and courage...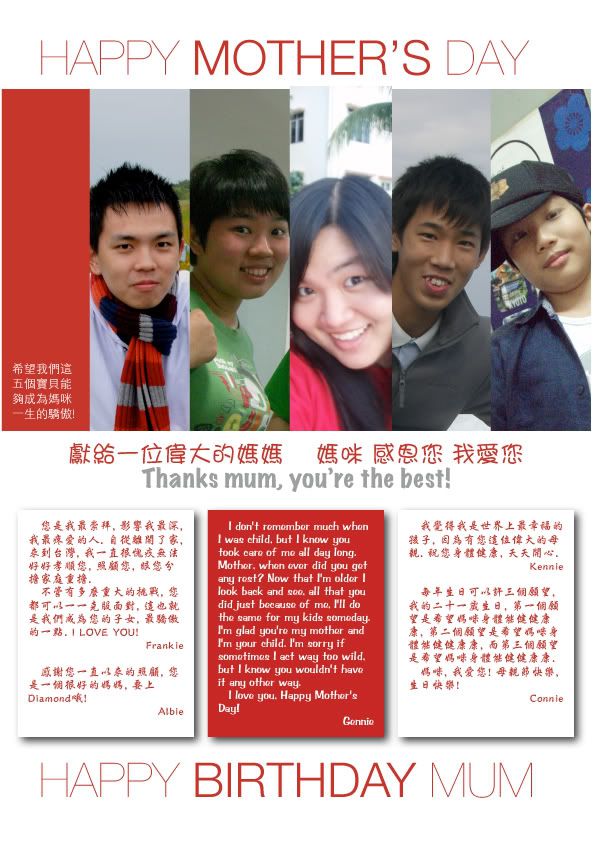 Happy 3rd Anniversary to
Frankie's BLOG
! (Officially renamed as
Swanky Frankie, Don't Be Cranky
)
3 years of thoughful posts about my life, photos of my exciting travels and journeys and the occasional grumbles and whines. I can't believe that what started as a brief passion of blogging turned out to be a very important part of my life where I would communicate with all my fellow bloggers and also my inner self. To celebrate the 1095 days of your support, I would like to do a recap of the best posts that I hope we will never forget.
Unforgettable Trips


Gui-Zhou Volunteering Trip
Summer of 2006, I experienced a life-changing trip to the outskirts of one very small town, Dan-Zhai. I've watched documentarie
A quick post about my visit to my partner, Cai Zhao's brother's apartment for lunch. Cai Zhao and her family is from Myanmar, but has been studying / working here since many years ago. Her brother got married last year, and recently bought an apartment in the outskirts of Taipei, which is cheaper, less crowded, yet still conveniently located near downtown.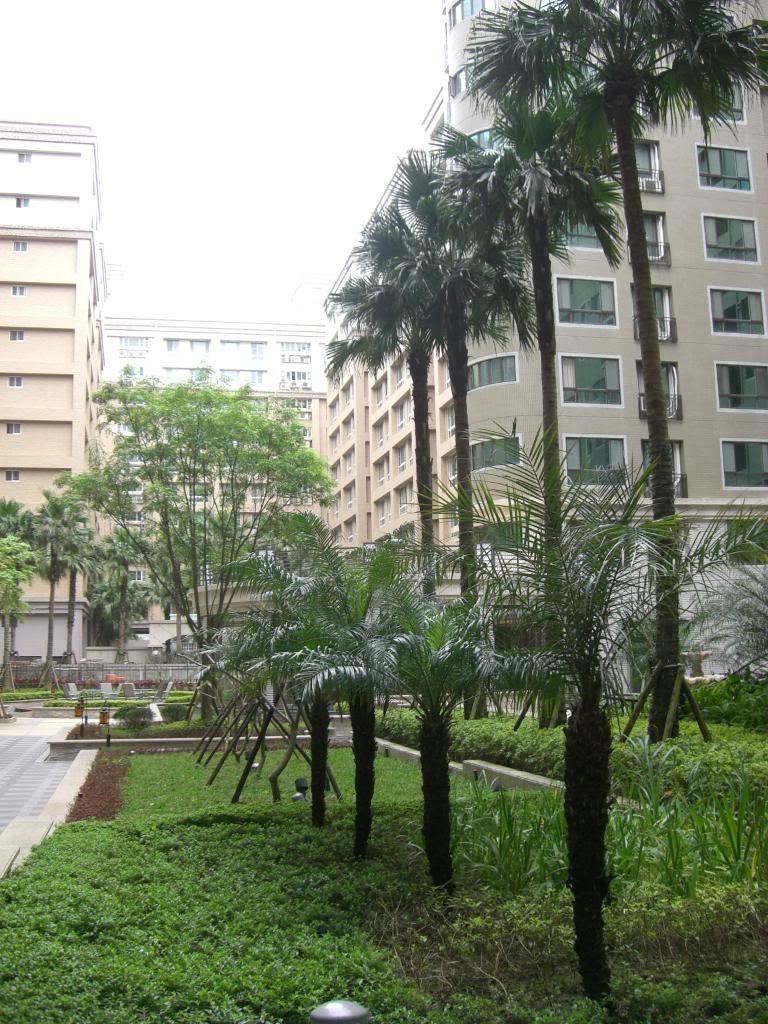 The place is situated in a community block of several high-rise condominiums, sharing a common main entrance with security and lobby.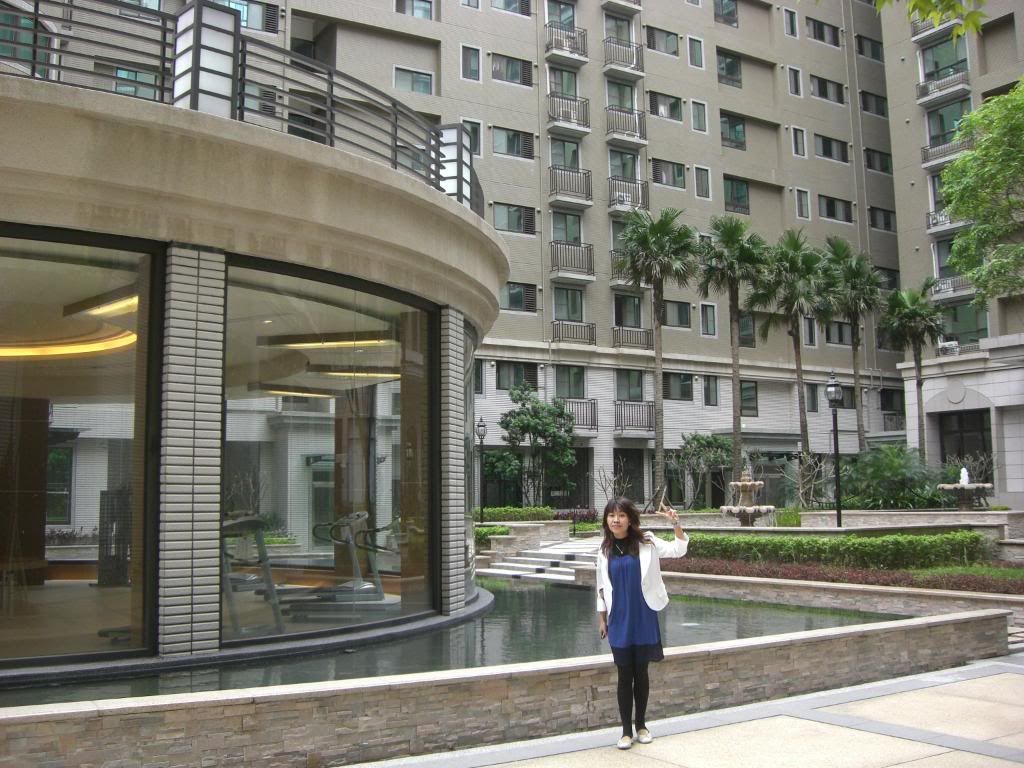 The community is fully equipped with a gym, several karaoke rooms, a children playground, theat
Ikea - the Swedish-founded Dutch-owned furniture extravaganza has always and still is one of my favorite place to visit. When Ikea opened its first store in Malaysia, me and my family used to go to this gigantic mall of brightl colored furniture for ideas and inspiration for our own home. Ikea never cease to stimulate the nesting instinct in me, always putting a bold yet cosy picture of how my future home should be.
During my Dermatology rotation in Taipei, me and my partner, Cai Zhao took time off for an impromptu trip to Ikea.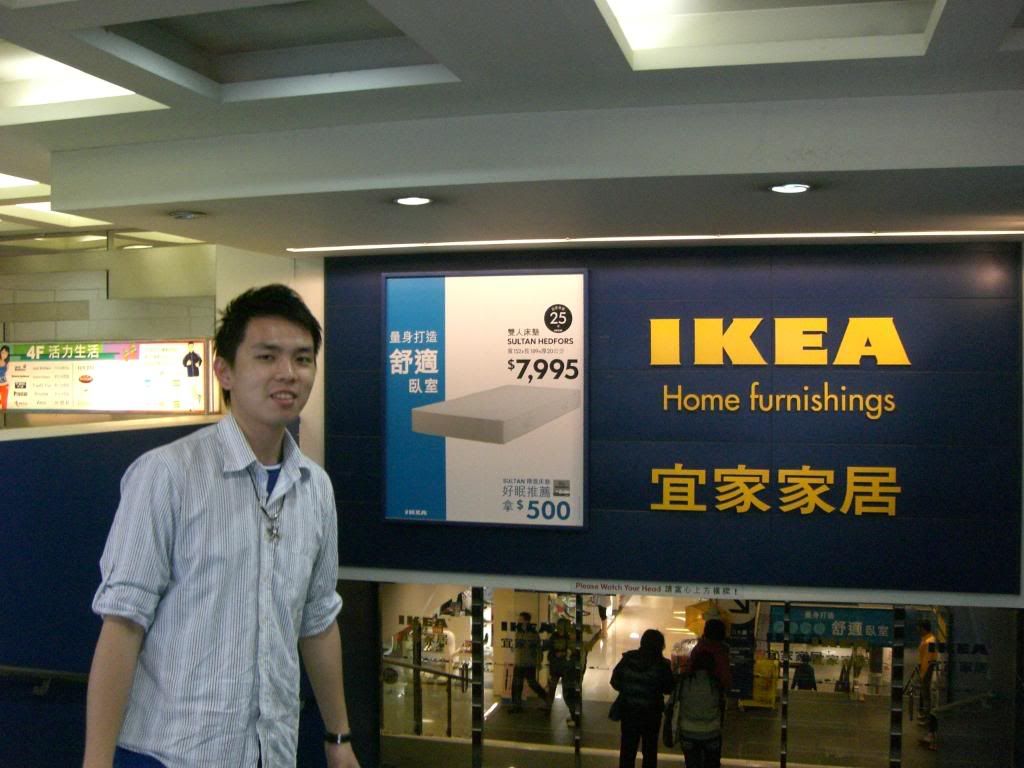 Ikea - the mother of all furniture-land, the paradise of all stylish homemakers.
Connie, my beloved sister turned 21 recently. For such a memorable event, a simple birthday cake and a few presents seemed to boring and predictable. Knowing how much she wished for a decent haircut, I volunteered to pay for a complete makeover.

The four of us - Connie, Wenting, Kian Hwee and me - dressed up like fashionable elves, all in bright green. Those who caught us on the streets might think that we're a bunch of environmental-activist wannabes, or team members of the Green Team out of some Nickelodeon game show. Envy or not, no one can deny that we are not only matching on the outside, but also close to each other on the insides.

At the hairdresser's, I insisted that Connie go for the punk look - yay-short hair on the sides - with a cool crop of hair left at the front. Wenting suggested a more sophisticated shoulder length look, similar to